Reading Time:
3
minutes
Almost every time I write an article with suggestions about eating healthier, eating more fiber, or eating less sugar, I receive dozens of emails asking me for some recipes. Since it's been a while since I wrote you with some recipe ideas,
I thought this week I'd give you three GOODIES! If you don't know what cherimoya is, you're in for a real treat.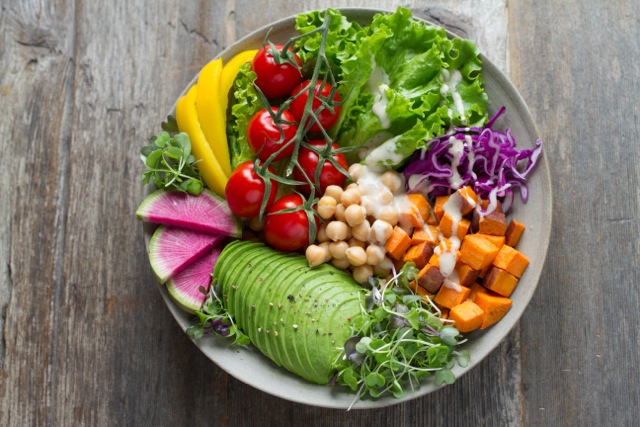 What is cherimoya?
1. Have you ever eaten or even heard of a CHERIMOYA? Cherimoyas have many health benefits.
I first discovered them about 12 years ago. In southern California they grow on trees in people's yards, but in most cases you'll have to go to a grocery store to try them.
Cherimoyas are a subtropical fruit. Its fragrant creamy flesh tastes like many fruits combined: pineapple, pear, banana, and mango.
A cherimoya is ripe when it is slightly soft and its pale green skin turns a dull brown-green. Once it's ripe act quickly because it'll usually last only for a day or two.
Cut it in half and scoop out the flesh. Make sure to pick the seeds out; they are not edible.
Here's a recipe for cherimoya with chile lime shrimp.
It serves two and takes 20 minutes to prepare.
1/4 cup each fresh lime juice and orange juice
1 tbsp brown sugar (optional to taste)
1/4 tsp red chile flakes
2 tsp oil (use whatever oil you prefer)
1/4 tsp salt
1/2 lb peeled, cooked medium shrimp
1/4 Hawaiian papaya, peeled and cut and diced
1/2 ripe cherimoya, peeled and cut into chunks
1 tsp chopped cilantro leaves
1. Combine juices, sugar, chile, oil, and salt in a small saucepan and boil over high heat, stirring often, until golden brown and reduced to 1/3 cup.
2. Divide shrimp and fruit between two plates. Drizzle with dressing and sprinkle with cilantro.
Yes, I know cherimoyas can be hard to find and expensive, but do give it a try and let me know what you think. I personally really enjoy them.
2. Here's a fun recipe for dandelion greens.
When you're buying dandelion greens look for what's actually an Italian chicory. Look for young, tender leaves.
Like other leafy greens, they are a great source of vitamins A and K. To balance their natural bitterness, cook them with dried fruit, nuts, and olive or nut oil.
You can use them in lasagna or in salads.
Here's a recipe for dandelion greens with currants and pine nuts.
It serves 6 and takes 15 minutes to prepare.
2 tbsp extra-virgin olive oil
1 garlic clove, finely chopped
1 lb dandelion greens, ends trimmed and chopped
1/8 tsp each of salt and pepper
3 tbsp each of currants and pine nuts
lemon wedges
1. Heat 1 tbsp oil in large frying pan over medium heat. Add garlic and cook, stirring for about 30 seconds.
2. Add dandelion greens in batches, turning frequently. Increase heat to medium-high, sprinkle with salt and pepper and continue to cook until greens are wilted and tender. (About 5 minutes).
3. Add currants and pine nuts and cook 1 minute more. Transfer to serving dish and drizzle with about 1 tbsp more oil. Serve with a squeeze of lemon.
3. Here's a recipe that uses sweet potatoes. It's called:
Sweet Potato Salad with Chili-Lime Dressing
Makes 6 servings and takes 15 minutes to prepare.
2 lbs sweet potatoes, peeled and cut into chunks
4 tbsp olive oil
3 tbsp lime juice
1 1/2 tsp chili powder
1/2 cup fresh cilantro, finely chopped (you can also use parsley if you prefer it to cilantro)
1 tsp ground cumin
1 medium sized red bell pepper, seeded and cut into chunks
1 bunch scallions, finely chopped
1 tsp salt
1 tsp ground pepper
1. Place sweet potatoes in a large saucepan and cover with water.
Bring to a boil and cook until tender (7-10 minutes). Drain and transfer to a large bowl. While potatoes are cooking, make dressing: in a small bowl, whisk together olive oil, lime juice, chili powder, cumin and cilantro. Add red pepper and scallions to
drained potatoes, and toss with dressing. Add salt and pepper.
Serve warm OR refrigerate and bring to room temperature before
serving.
I love cooking and enjoy it even more when I'm trying out some
new, interesting recipes. I hope these three fit the bill!
If you feel stuck and need additional support to adopt a new healthy habit or routine, consider working with me. We can partner up in setting goals, drawing on your skills and strengths, and implementing strategies to help you find your way to lasting healthy success.
Related Articles:
For over 15 years, Shelli has been a freelance writer and wellness habit coach on Joyinmovement. She writes about brain fitness, creating a healthy lifestyle, traveling the world, and making positive habits stick. Stop procrastinating! Take action, join her free newsletter.