Reading Time:
3
minutes
I can't think of a more versatile legume that is healthy, affordable and always in my cabinet ready to be called into service. A standing ovation, please, for chickpeas! Let's take a look at the many benefits of chickpeas and the reasons why chickpeas are good for us!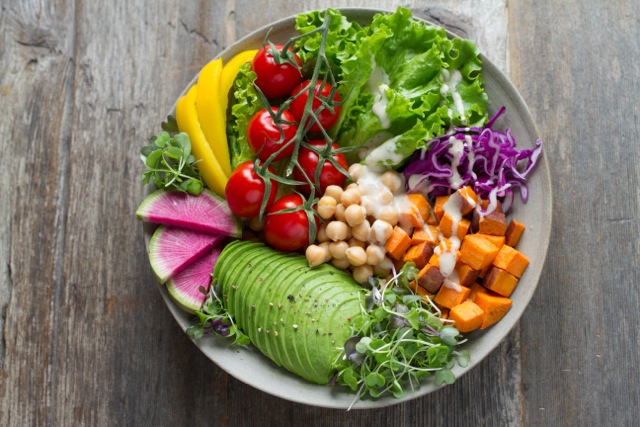 What Are Chickpeas?
Chickpeas are also called garbanzo beans or Egyptian peas. They are from the legume plant family. They originated from the Middle East though they are included in many different cuisines including Mediterranean, African, and Asian.
What Are The Health Benefits Of Chickpeas?
They are a good source of fiber, a fair source of protein, relatively low in calories and fat. One cup of chick peas, for instance, supplies nearly half a day's worth of fiber. Since they are digested slowly, they can help stabilize your blood sugar level. They also contain plenty of vitamins and minerals.
They can be eaten raw in salads or cooked in soups or sauces. They can be ground into flour for gluten-free recipes or used to make hummus (which is my favorite way to eat them).
Here are some recipes for you.
1. Spiced Chickpea Nuts
When they are roasted they become super crunchy.
15 oz can chickpeas, drained and rinsed
1 tablespoon olive oil
2 teaspoons ground cumin
1 teaspoon dried marjoram
1/4 teaspoon ground allspice
1/4 teaspoon salt
Preheat oven to 450 degrees. Make sure the chickpeas are dry. Toss them in a bowl with all other ingredients. Spread on a baking sheet. Bake, stirring once or twice, until brown and crunchy, about 35 minutes. Let cool for 15 minutes. Makes about 4 servings.
2. Baked Chickpeas with Curry and Cheese
1 tablespoon olive oil
1 medium onion chopped
2 garlic cloves minced
1 inch slice of ginger, peeled and minced
1 tablespoon minced chili pepper
2 teaspoons curry powder
1/2 teaspoon chili powder
1/4 teaspoon sugar
2 cups canned diced tomatoes, drained
1/2 cup coconut milk
1/2 cup chopped cilantro
1 pound fresh spinach, chopped
3 cups canned chickpeas, drained
1/2 teaspoon salt
1/2 teaspoon pepper
1 cup cubed fresh mozzarella cheese
Preheat oven to 400 degrees. Coat a 13-by-9-inch baking dish with cooking spray. Heat oil in a deep skillet, over medium high heat. Add onion, garlic, ginger and chili. Cook until onion is soft, stirring occasionally. Stir in curry powder, chili powder, and
sugar; cook about two minutes, stirring constantly.
Add tomatoes, cook about three minutes, stirring frequently. Add coconut milk and cilantro. Bring mixture to a boil and stir constantly. Reduce heat to simmer and cook until mixture thickens (about 20 minutes); stir occasionally.
Add half of the spinach to tomato sauce, and cook until wilted, stirring frequently. Add remaining spinach. Add chickpeas and remove from the heat.
Spread the mixture into a prepared baking dish. Sprinkle with salt and pepper. Place cheese evenly over dish. Bake until sauce is bubbly and cheese and beans have browned, about 25 minutes. Makes 6 servings.
If you're not already enjoying chickpeas, add them to your diet! There are so many benefits of chickpeas, and they taste great too.
If you feel stuck and need additional support to adopt a new healthy habit or routine, consider working with me. We can partner up in setting goals, drawing on your skills and strengths, and implementing strategies to help you find your way to lasting healthy success.
Related Articles:
For over 15 years, Shelli has been a freelance writer and wellness habit coach. She writes about brain fitness, creating a healthy lifestyle, traveling the world, and making positive habits stick. Stop procrastinating! Take action, join her free newsletter.